The 2014 USHJA Hunter Championships, including the World Championship Hunter Rider, International Hunter Derby, and Pre-Green Incentive, will offer a best turned out horse award sponsored by Shapley's. The groom of the best turned out horse will be presented a Shapley's award bucket of products, cash award of $100 and a commemorative ball cap.
"Shapley's is thrilled to be a new sponsor of the USHJA Sally Stith-Burdette, Director of Marketing for Shapley's, states "Combined with our sponsorship of competitions, riders and special groom's classes, this partnership will give us great exposure in the hunter/jumper industry to which we are so committed."
Shapley's is proud to sponsor such outstanding riders as Scott Stewart and Shane Sweetnam and several competitions including the FTI Consulting Winter Equestrian Festival and the Alltech National Horse Show. Shapley's has provided superior equine grooming products used by horsemen worldwide for over 75 years.
A well groomed horse is not only a part of the tradition and history of our sport; it is also a key element to the well-being of our equine partners. USHJA is excited to have Shapley's reward the efforts of the people who care for our horses." Stated Bill Moroney, USHJA President.
To learn more about Shapley's visit www.shapleys.com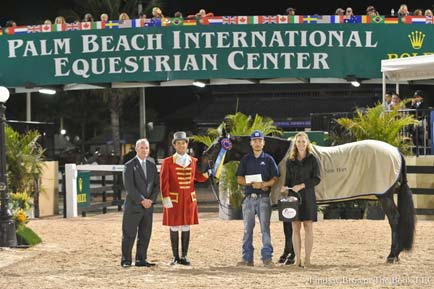 Photo Credit: Lindsay Brown/The Book, LLC.
Bill Moroney and Sally Stith-Burdette present Manuel Martinez, Groom of Walk This Way,
the Best Turned Out Horse award during the
2014 USHJA WCHR Peter Wetherill Palm Beach Hunter Spectacular.